RELAXING: 52 Week Dog Photography Project - Week 50
Relaxing is the topic of our 52 week dog photography project and I am not lying when I say, I literally just picked up a calendar and looked to clarify that this is in fact week 50. It is! Wow, can someone please slow down the clock? Thinking about how quickly time goes by is anything but relaxing to me.
One of my morning walks is with this cockapoo Delilah. After our walk, she typically is ready to relax and I thought I might be able to capture a photo of her. She has a great backyard with a raised deck that allows her to see what's going on in her neighbor's yards. It makes a for a nice place for her to keep an eye on things. This particular day was trash day too so the trucks on the street kept her interest too although based upon this photo, you can tell there weren't around anymore.
When I saw the topic for the week was relaxing, I actually thought of Moose right away. The dog loves to sleep. The problem with that is, where is sleeps isn't the greatest place for me to photograph him. Let me explain.... and this may be long.
Moose is my shadow. Wherever I am, he is. Where I am, when I am home is usually at my desk.
My desk is located in one of the spare bedrooms in our house. The room has my old bedroom furniture in it from before Don and I moved in together and it has my old sofa. (Kristen if you're reading this... it's the same sofa I bought from you back in 1998-ish.) It is now considered the dog's sofa.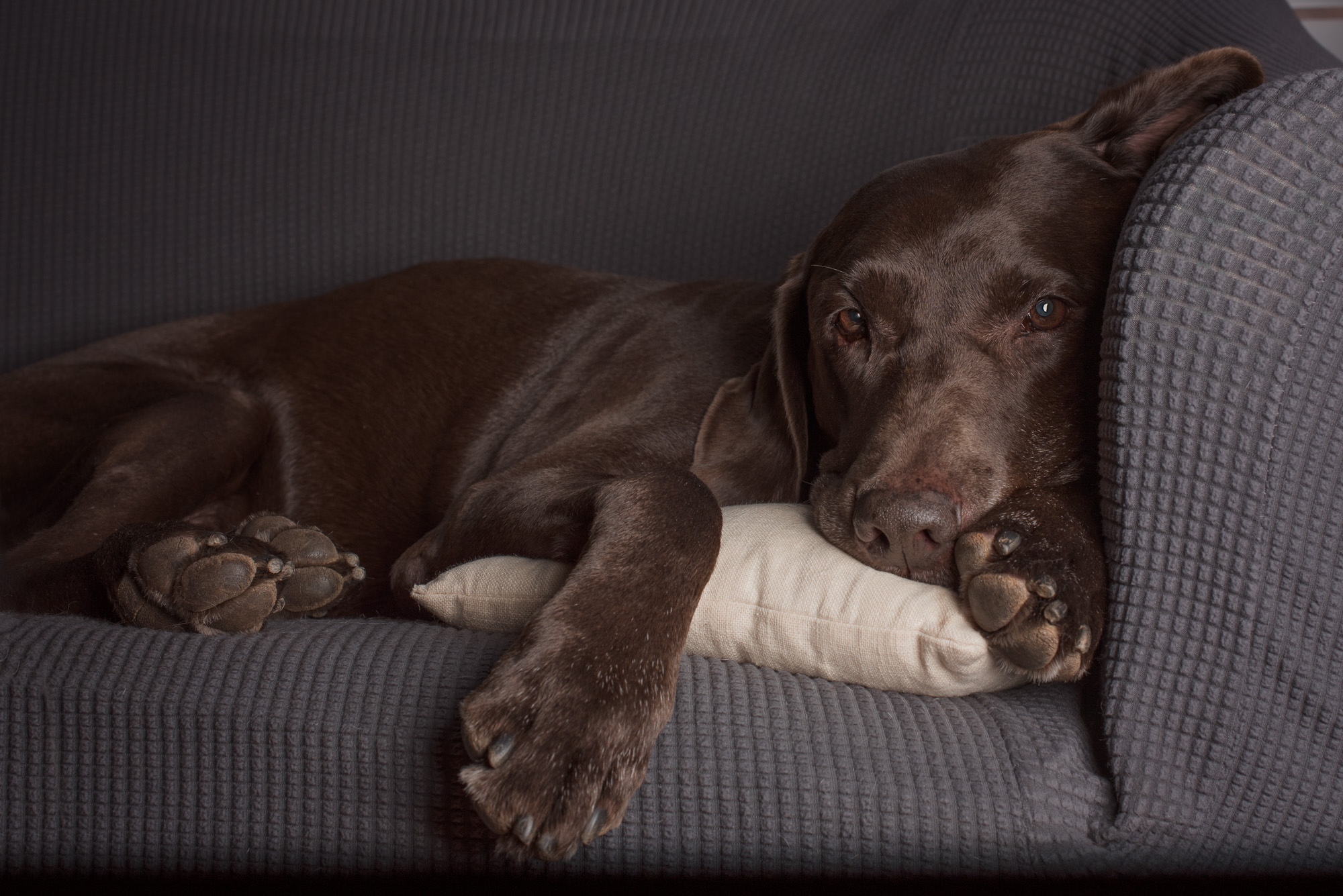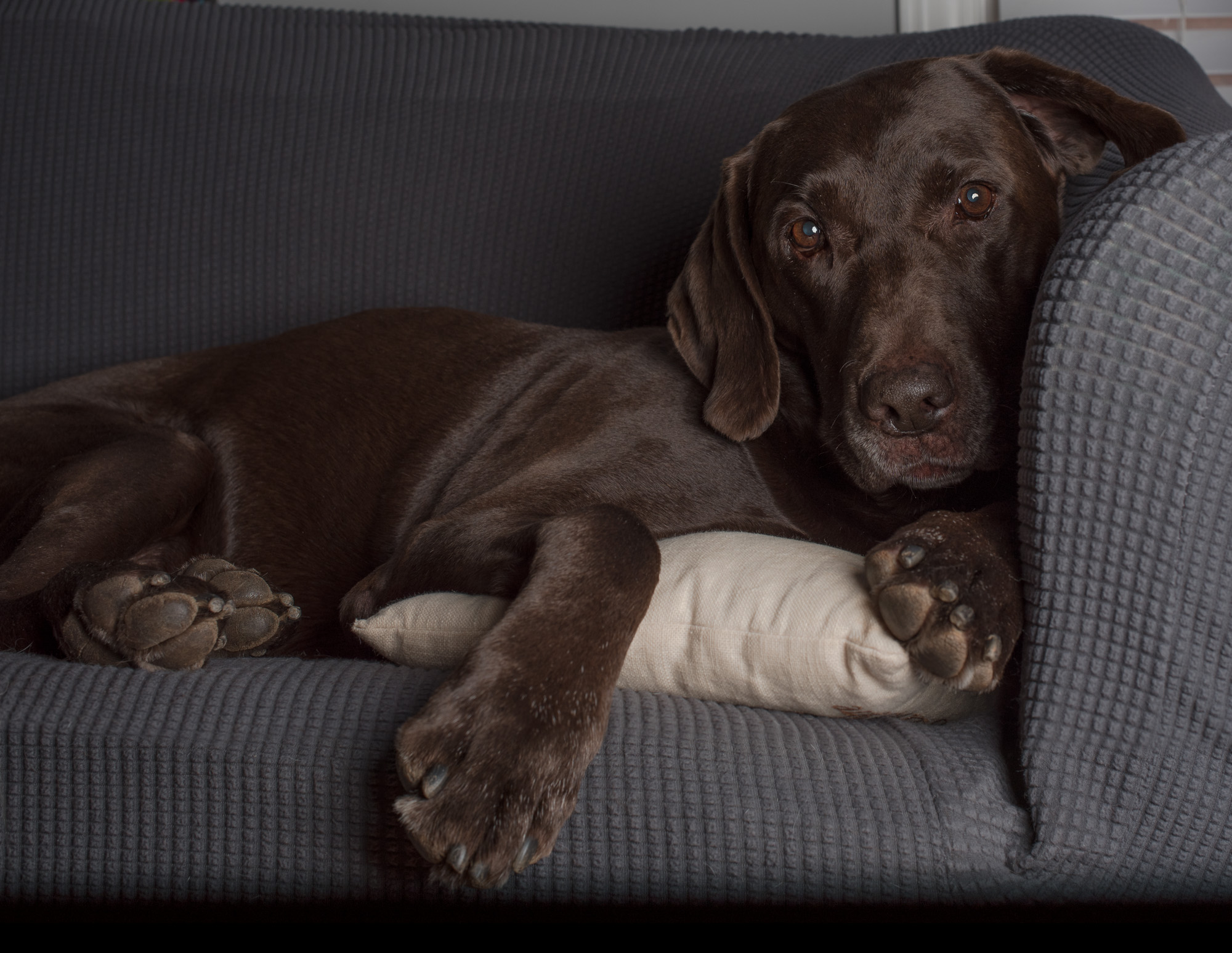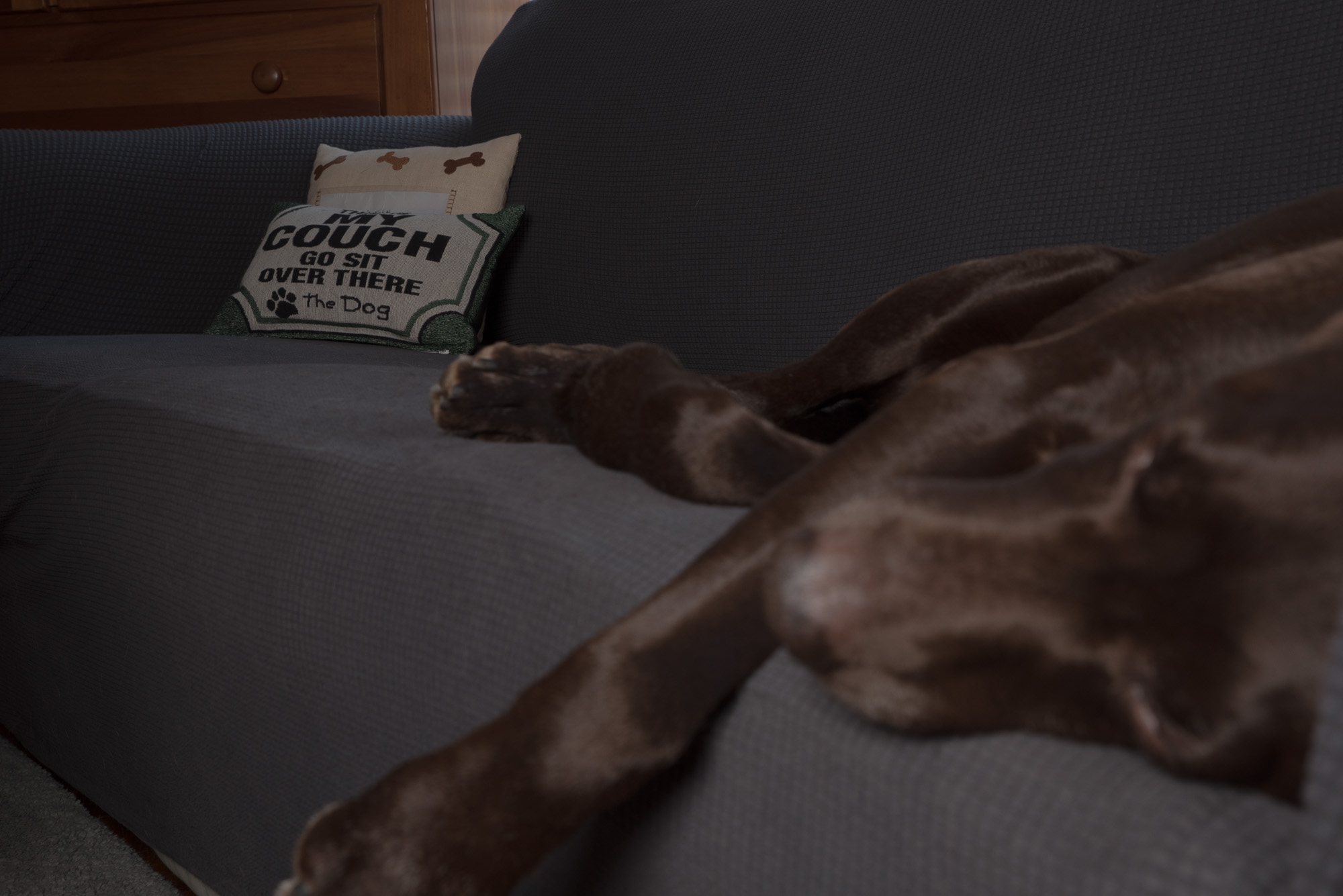 Moose sleeps on it whenever I'm in here (which is a lot.) It is his and if you sit down on it, he will love you (and expect a belly rub) and you will also get up covered in dog hair. We got smart several years ago about bought 2 covers for it. Every Friday morning, the one on the sofa goes in the wash and the 2nd one is put on. Genius, right? It even has a pillow on it that says it's the dog's sofa. (see last photo in the slideshow.) So, while Moose was sleeping on Sunday afternoon, I grabbed my camera and attempted to capture him relaxing. I took all of these photos over the course of about 20 minutes. I wasn't kidding when I said he likes to sleep. I must admit I get a bit jealous of him frequently.
There isn't a lot of room for me to position myself to take his picture when he's on the sofa because my desk and the bed are in the way (There is A LOT of furniture in this room.) If I'm sitting at my desk and back my chair up, I bump into the sofa. The lighting isn't great to do this either because the two windows are behind the sofa so I did try OCF on these. (On a side note, I wish I understood OCF: where to put the light, how high, at what angle, how far away, etc? I have no idea. I guessed and basically put it where it would fit.)
Moose is relaxing behind me now as I type this although he thinks it is dinner time. He keeps getting up and coming over and standing beside me. I pat him on the head and say "it's too early" and he goes and lays back down. The dog's internal clock works because it is his dinner time. Time for me to go.
This is a blog circle and next up is Rochelle with Dark Sapphire Pet Photography, Nelson, New Zealand. Click the links at the bottom of each post and you'll end up back here when you're finished.