New Location: Pet Photography Project 52: Week 1
My week 1 theme is New Location. It's a new year and for our Pet Photography Project 52 Week 1 theme, we can do anything we want that is "new." This year we aren't following a book like we did in 2016, we will have freestyle themes each week. We decided to do this to attract other dog photographers' participation in this blog circle and this week it worked. There are 11 of us! Woo hoo! I can't wait to see all of the other photographer's work. If you are new to the group, welcome. If you are new to BARKography, I'm so glad you're here.
If you are new to my site and me, take a look around and here is a little bit about me. I am what you'd call a "later in life" finder of my passion. I discovered photography at the age of 48 but I quickly became frustrated by all there is to learn so I shelved my camera (literally.) A year later in December 2015 I made a decision that changed my life. I decided to attend Barkelona, a dog photography workshop in Barcelona taught by Nicole Begley, Kaylee Greer and Charlotte Reeves. Among the magic of Spain and being surrounded by other equally crazy dog people, I found out why I'm here.
That is totally cheesy but through BARKography I feel like I've found my purpose in life. That's a true statement and such a great feeling. I LOVE being behind the camera. I frequently get teary when I see others' work that I admire. I WANT to be THAT GOOD and I spent most of 2016 learning anything and everything I can so I can be a better dog photographer. (btw.. I know I am not there yet but I'm having a blast trying to get there. :) )
I love photographing at new locations. I am based in Charlotte NC but I plan to combine my love of travel, dogs and photography and schedule BARKography sessions in other states. In May 2017 I will be in Boulder Colorado and in November I'm headed back to southern CA. I'll be photographing in lots of new locations this year and I can't wait. I want to spread the word about my travels and build a following. If you're interested in coming along on my journey, click the Subscribe to the Blog Button on the bottom left corner of this page.
I had the opportunity to photograph at a new location this week about 25 minutes from where I live, Colonel Frances Beatty Park. This is Chico and he's a 16 year old rescued chihuahua mix. Chico's mom is a friend of mine who moved to Atlanta years ago. She was in town over the holidays and asked me to photograph him. She wants to make sure she has artwork of her precious little guy. Seeing her again and meeting this little guy was really special. THIS is why I do this.
Love Looks Like This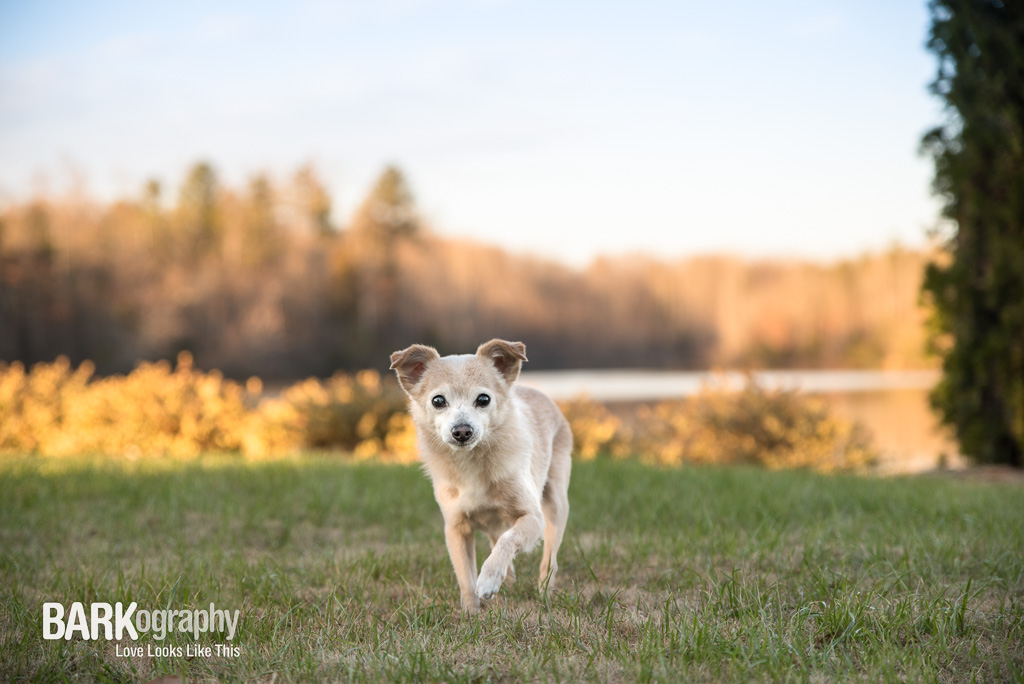 Yay... week 1 of the Pet Photography 52 Week Project is in the books! This is a blog circle and next up is Rochelle with Dark Sapphirre Photography. Be sure to click the link at the bottom of each post and you'll end up right back here looking at Chico.