COCO: A Lost Soul that Found A New Life because of a Dog Photography Workshop called Barkarica
I attended #barkarica, an out of this world dog photography workshop near #manuelantoniopark in Costa Rica. It was a 5 day workshop and I will blog about the entire experience but first I must tell you about Coco, a lost soul that found a new life because of Barkarica.
I met her on the next to last day of the workshop during our final photo shoot. We were told we would be photographing dogs at the local shelter PAWS (Paws of Aguirre Welfare Shelter. ) None of us knew what to expect when we arrived at the shelter but we were told there was a river nearby that would be a great backdrop for photos. It was.
Some of you know BARKography was started because of my black lab named Buddy. Lately I have been thinking about adding another dog to our family and I would prefer a black lab. (Convincing the hubby that it is time to start thinking about this might take some time though.) We have Willow our soon to be 13 year old yellow lab that is having hip and arthritis issues. We know that Moose won't do well as an only dog so at some point we will be a 3 dog family.
When we got to the shelter, I walked down the row of kennels. The first dog barked with excitement and the next two dogs stood in their kennels looking back at me. The 4th dog struck me immediately. She was a skinny, shy black lab with soulful brown eyes and she put her head down and walked towards me as I got closer to her. I could tell that she just wanted to be touched. I pet her through the kennel and in that instant, she had me wrapped around her finger. She was a lost soul and that thought broke my heart.
We got all of the dogs leashed up and we walked 5-10 minutes to the river. This location was my favorite of all the locations we shot in Costa Rica. Describing it as stunning doesn't do it justice. There were mountains behind us covered in dark moody clouds. The river was flanked by pebbles and tall grasses. As the sun started to set the clouds turned purple. If I hadn't been there, I would've thought the purple skies were some sort of photography editing trickery. They weren't.
Bridget of Bridget Davey Photography, one of the photographers I'd been shooting with knelt down and Coco walked right up to her. This is what happened next. She'd been photographed for the past hour but this is what she wanted. Human touch. Love. Comfort.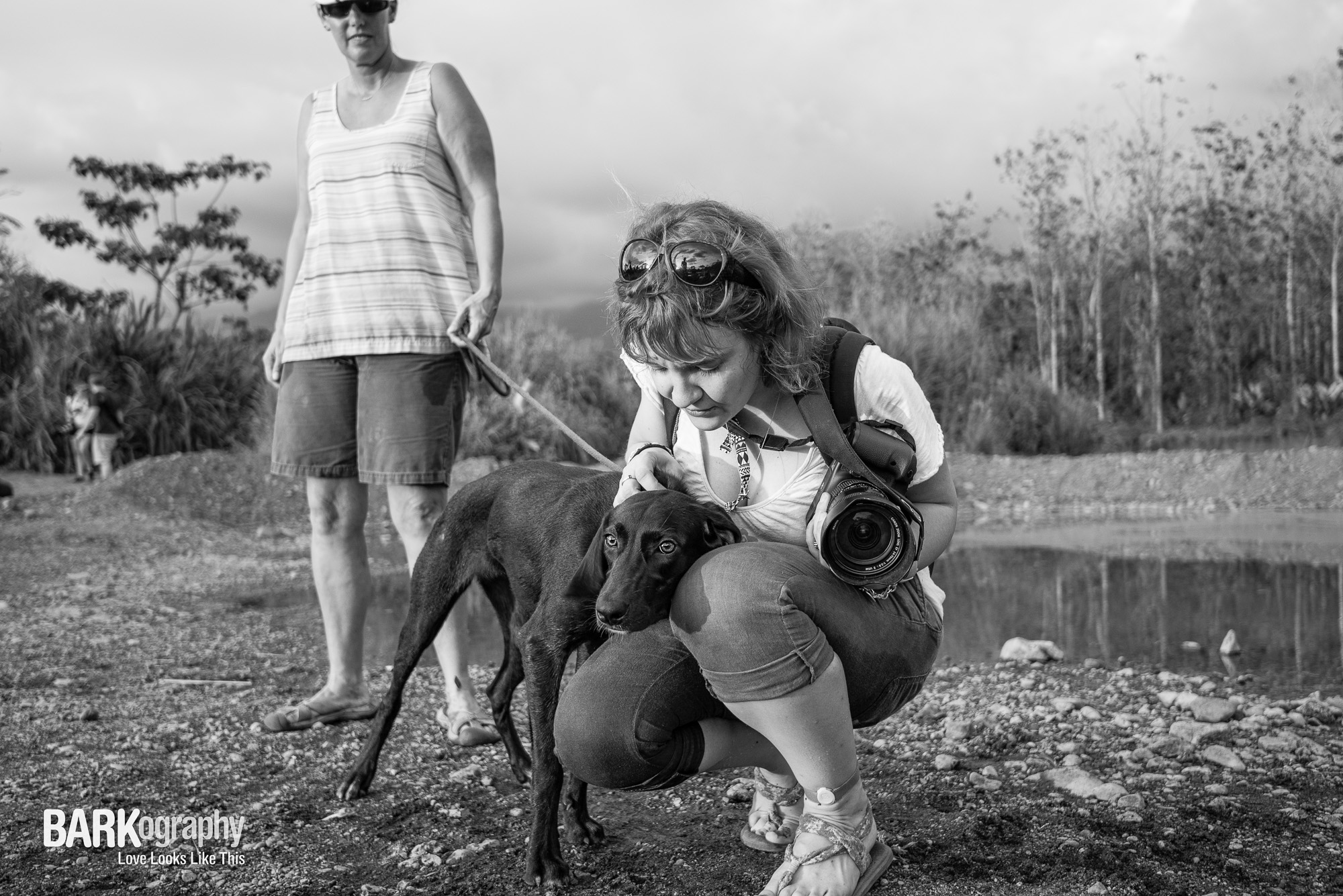 As we were leaving, I told the others that I didn't want to say goodbye to Coco. That night I thought about her a lot. If you follow me on Instagram, I posted a photo of Peanut the dog I photographed the most from the shelter but I wrote about Coco. This is what I said: "I didn't want to say goodbye to her and I hate the thought of her being alone in the shelter but she is safe, being given medical attention and food. She's only been there about a week so I'm going to think positive thoughts that she gets adopted soon and that her forever home gives her all the love she'll ever want."
The next morning a few of us were talking about the shelter dogs and I mentioned that I wish I could adopt Coco. Christine one of the other photographers mentioned she was interested too and that she liked both Coco and Peanut. I texted Don about the prospect of my coming home with a dog and Christine looked into what would need to happen to try to make this happen.
She learned that the process is fairly simple:
Contact the shelter
Complete their paperwork
Take the dog to the vet for shots and to get paperwork signed
Contact the airlines to make sure the baggage area is pressurized and temperature controlled.
Get one final signature
As it turned out, I did not adopt Coco but Christine did. I cried when I found out that she really wanted her. Christine left the workshop Friday afternoon, went to the shelter then the veterinary clinic to complete all of the requirements and that afternoon she and Coco came back to the villa. Ending Barkarica in this way made a magical week in paradise even more incredible.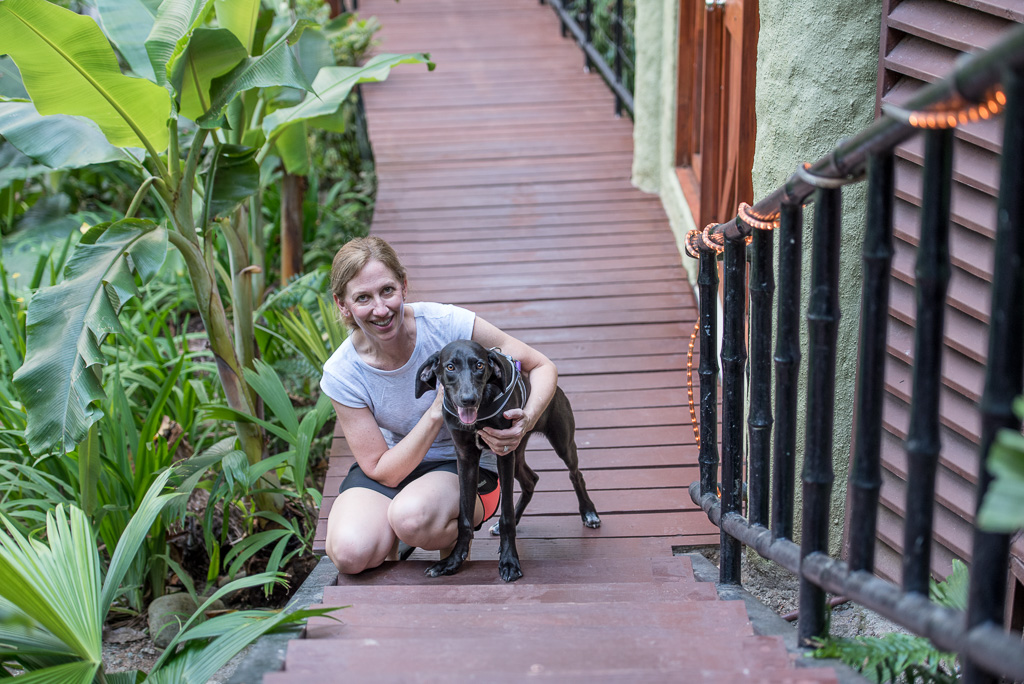 Coco amazed all of us the minute she arrived at the house. I think in those first few moments of being with Christine, she knew she was okay. At the villa, she was cautious but not scared. She just rolled with whatever was tossed her way. The next photo is how she looked at times during the photo shoot. The 2nd photo is one I took of her at the villa. I truly believe in the 2nd photo, she knows she is safe. She looks happy and confident.
On Saturday, she rode in a van to the airport and boarded the plane with Christine bound for Los Angeles. She stayed in a hotel in LA Saturday night and arrived at her forever home in Oregon on Sunday. She's already been to the vet and I'm so happy to report that other than some intestinal parasites, she is a healthy girl.
I had my first BARKography destination last August in Oregon. I was debating going to Oregon again this year. I believe I just might have to go and work in a side trip to see Christine and Coco.
I believe Coco has it figured out. All we need is human touch, love and comfort. She certainly found that and more with her new mom. Christine, you are my hero. Christine is a world traveler and her images can be found at Sunlight Inspirations.